About Us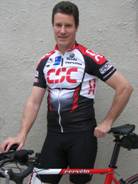 Bike Fit Physio coordinator is:
Murray Tough from Kingston, Ontario, Canada
Physiotherapist:

Graduated in 1990 from Queen's University with BSc. PT and in 2000 with Master of Science in Rehabilitation. Also has Bachelor's degree in Physical and Health Education, 1987. Has extensive experience with musculoskeletal and athletic injuries. Currently practices as an advanced practice physiotherapist at Hotel Dieu Hospital and works part time as a Bike Fitter and Bike Fit Educator.

Educator:

Assistant professor at Queen's University and part time lecturer at Queen's University School of Rehabilitation Therapy from 1995 to 2006. Recipient of numerous teaching awards. Developed educational seminar on cycle positioning and treatment of cycling injuries in 2006. F.I.S.T. certified bike fitter and member of Serotta International Cycling Institute. Has completed Serotta's personalized fit class and Serotta's Advanced Motion Capture Training..

Athlete:

an avid lifelong runner and a triathlete for over 20 years. Member of Kingston Road Runners, Kingston Multisport and Ontario Association of Triathletes. Enjoys wide variety of athletic activities and outdoor sports ranging from windsurfing to kayaking to adventure racing. Qualified for and ran Boston Marathon in 2005.
Continuing Education Seminar for Health Care Professionals: 'Cycle Positioning and the Treatment of Common Cycling Injuries'.
Why did I develop this Seminar?

It all started with what I thought was a simple question but which ended up taking me on a long journey…I had been competing in triathlons for a few years after 'getting the triathlon bug' watching the fabulous race they host here in Kingston. I decided it was time for a new – 'faster' bike (I'm sure many of you have been there) The question I had to answer was…"Should I buy a road geometry bike or a triathlon specific bike? That question led me to Cervelo's very informative website, and eventually, after much searching of the web and reviewing the literature, on a trip to California to attend Dan Empfield's Fit Institute Slowtwitch bike fitting seminars. Other questions came along on the way….'Why don't these aero bars work any more, Why don't I feel as powerful on my new 'faster' bike, Why does my neck hurt so much on a long ride" etc…after much more thought, and attending Serotta's bike fitting seminars and conferences, I finally arrived at answers to these questions and many more. As I was taking this jouney, I was constantly under the impression that I had to share these insights with others, the information explained a lot about the pain many of my triathlon and cycling clients, as well as my friends, were suffering. I decided to create a continuing education seminar devoted to sharing this information in a practical way, which would give health care professionals information and insights that would help them offer more effective treatment to triathletes and cyclists. After running the seminars for several years it occurred to me that coaches would also benefit from this training, and be able to share it with their athletes. I am confident that any health care professional or coach who works with athletes who cycle will find this seminar helpful.
Individual Bike Fitting
Why should I book a 'Bike Fit Physio' bike fit?

Increased Comfort…Improved Performance…Injury Prevention

Comfort: No one likes to ride a bicycle that makes them uncomfortable. Most people don't realize how adjustable bikes are. When your cycling position is optimally adjusted to specifically fit your body; with consideration for your strength, flexibility, endurance and riding goals, comfort becomes reality.

Improved Performance: Optimal positioning can have a significant effect on your performance. Factors that need to be considered for optimal position include those listed above, in addition to: body type, training habits, race/event duration, terrain, the ability to eat, drink and breathe while cycling, and aerodynamics. Only by considering each of these details can optimal rider position be achieved. This process takes time, experience and attention to detail.

Injury Prevention: A bicycle that is optimally fitted to you is safer to ride. Improper bike fitting can lead directly to overuse injuries, or prevent you from recovering from a pre-existing injury. This is especially important for those who spend considerable time on their bicycles. In addition, a proper bike fit will help ensure proper handling and braking while allowing you to see safely down the road.
Bike Fit Physio coordinator is:
Murray Tough B.A.,B.P.H.E., BSc.PT, MSc
Physiotherapist, F.I.S.T. and Serotta certified bike fitter.
Member of Serotta International Cycling Institute
Award winning educator while faculty member of Queen's University's School of Rehabilitation Therapy.
A lifelong runner and a triathlete for over 20 years.